Welcome to Onsite & Workplace Physio Pte. Ltd.!
We are a healthcare service provider specialized in mobile / onsite physiotherapy and rehabilitation services in Singapore. We aim to deliver quality services at your convenience, and in actual fact, at your DOORSTEP! We are also Ministry of Health (MOH) certified Physiotherapists.
Our physiotherapists are qualified Allied Health Professionals and we possess professional qualifications recognized by MOH. We specialize in sports and musculoskeletal conditions as well as chronic illnesses and neurological rehabilitation.
With at least 15 years of clinical experience working in our specialized and subspecialty areas, we developed advanced skills in pain relief management, evidence-based rehabilitation as well as injury prevention.
How Can We Help?
Physiotherapy services in Singapore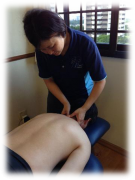 Physiotherapy is commonly referred for conditions of the following ailments or symptoms:
Pain and stiffness
Weakness and paralysis
Sports, spine and musculoskeletal injuries
Arthritis, sprains and strains
Swelling and lymphedema
Ergonomics and work-related musculoskeletal disorders
Stroke
Aging and Degenerative Changes
Our physiotherapists use physical means of treatment or manual therapy such as joint mobilization/manipulation, various techniques of soft tissue massages and stretching, electrotherapy as well as exercise program to manage your ailments.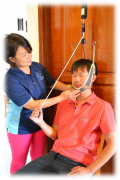 We spend our working lives helping people become more suited to their environment and lifestyle.
How To Engage Physiotherapy Services?
You may consult us either directly or by referral from your doctor.